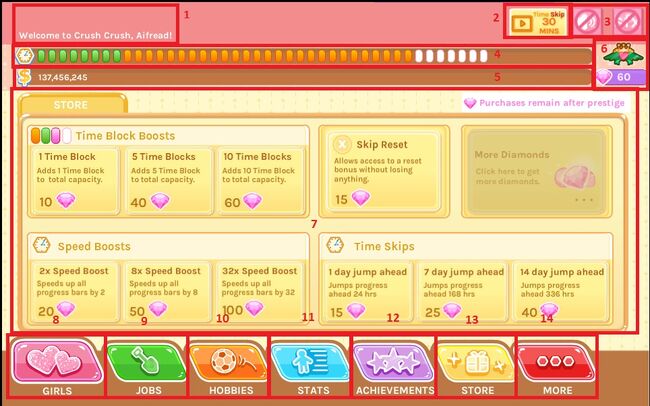 The picture above shows the typical layout of Crush Crush. It has been divided into sections and each section will be explained from top to bottom, left to right.
Message Bar: Here you will receive messages from the game. You will receive the welcome phrase "Welcome to Crush Crush, [username]!" whenever you login. When you unlock new girls or achievements, a message will also be displayed there.
Time Skip: This button allows you to skip 30 minutes in game time by watching an advertisement. This is only available on Kongregate (not sure if it is on Steam).
Music/Sound FX: Here you can mute/unmute music and sound effects.
Time Blocks Bar: This bar indicates the number of time blocks you have, and the number of time blocks you're using. Time blocks limit the number of activities you can do at one time. One is acquired every 4 Achievements or through Diamonds.

Green: Time Block(s) used up due to Jobs
Orange: Time Block(s) used up due to Hobbies
Pink: Time Blocks used up for dates
White: Unused Time Blocks

Cash Bar: This displays the current amount of cash that you own or is "in the bank".
FAQ & Diamonds: The number shown displays the number of diamonds you currently have. These Diamonds are used to speed things up or to purchase items in the Store Tab. Clicking above the Diamonds indicator displays the FAQ window explaining the main currencies of the game.
Primary Display: Here you'll see the different parts of the game after going to one of the tabs towards the bottom of the game window.
Girls Tab: Here you'll see the list of girls you have/haven't met, and a list of options to interact with them through talking, gifts, dating and poking.
Jobs Tab: This tab allows you to manage the jobs you want to take, as well as displaying the list of professions and their requirements.
Hobbies Tab: This is where you manage the hobbies you want to practice in order to get jobs and/or fulfill the girls' requirements.
Stats Tab: Here you can see the basic stats of your current playthrough. This is also where you reset for Prestige or bonus multiplier. You can see your character and change your gender in this tab.
Achievements Tab: Here you'll see the list of Achievements you've earned and have yet to earn. Each achievement earned provides .05x prestige and 1/4th of a time block.
Store Tab: The Store page is where you can spend diamonds on boosts.
More Tab: Here you can see your Memory Album, change the settings, and perform a hard reset. The FAQ button is also shown here.