Welcome to the Crush Crush Wiki!

01:20

New Trailer

Hey hot stuff! Are you looking for a fun and flirty game to kill some time and make you laugh out loud? That's a crazy coincidence, because it's been looking for you!


Welcome to Crush Crush – the Idle Dating Sim! Begin your quest to win the hearts of your town's lovely ladies… after a disastrous intro or two! To do it you'll have to build your stats, unlock amazing new jobs, and then sweep your waifu off her feet with exotic dates, the perfect gift, or maybe a tickle fight or two.
---
Featured Girl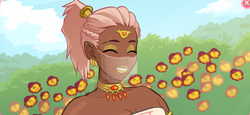 Sutra is the seventeenth girl unlocked in the game. She is unlocked together with Karma by having level 55 in the Mysterious stat. You meet her when she and Karma appear in front of you, looking for the Chosen One who will save the world. You crush her expectations by being the Chosen One.
---
Ad blocker interference detected!
Wikia is a free-to-use site that makes money from advertising. We have a modified experience for viewers using ad blockers

Wikia is not accessible if you've made further modifications. Remove the custom ad blocker rule(s) and the page will load as expected.