Welcome to the Crush Crush Wiki!
Hey hot stuff! Are you looking for a fun and flirty game to kill some time and make you laugh out loud? That's a crazy coincidence, because it's been looking for you!


Welcome to Crush Crush – the Idle Dating Sim! Begin your quest to win the hearts of your town's lovely ladies… after a disastrous intro or two! To do it you'll have to build your stats, unlock amazing new jobs, and then sweep your waifu off her feet with exotic dates, the perfect gift, or maybe a tickle fight or two.
---
Featured Girl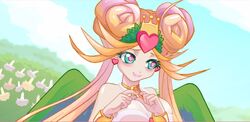 Q-Piddy is the nineteenth and final girl unlocked in the game. She is unlocked after completing The Dark One. She is a goddess who has been helping you throughout the game. You encounter her when she is about to sacrifice herself to the dark portal when Pamu stops her, crushing all hope for humanity.
---
News and Updates
(February 11th, 2018) v 0.224
Crush Crush with Voice Acting ONLINE: Probably the NOICE Voice Update Ever!
(November 30th, 2017) v 0.209
Crush Crush Translation is now ONLINE. Change the Language and Localize your Game!
(October 19th, 2017)
Monster Girl Madness Event is on. Complete to get yourself some Monster Girl Outfit in Weekly Event
(October 14th, 2017)
Want to join the Crush Crush Community Discord? Join here!
(October 13th, 2017) v 0.196
Don't Notice Me, Senpai Event has been released on all platforms. Log in daily and find Chibi Ayano to get different tiers of rewards
(October 5th, 2017) v 0.185-0.189
Nutaku-Versary Event has been released on all platforms. Complete all of the Task to secure yourself Nutaku Exclusive Outfit.
(September 21st, 2017) v 0.180
The Back to School sale has been released on Steam. Purchase diamonds at a reduced price to get rewards.
(July 25th, 2017) v 0.173
The Summer Fling event has been released on Steam. Log in daily for the scavenger hunt to get different tiers of rewards.
Poll
Who's your favorite playable girl in the game?